Ceramic Proppant
Ceramic proppant, also called hydraulic fracturing sand, oil fracturing proppant, ceramic sand, bauxite ceramic proppant, bauxite proppant, oil fracture proppant drilling proppant, high strength proppant, high-strength proppant, high conductivity proppant etc. Ceramic proppants are engineered to optimize conductivity in virtually any application. Using ceramic Proppants to provide high conductivity of oil and gas, to increase the oil and gas production output, as well as to extend the oil and gas wells' length of service.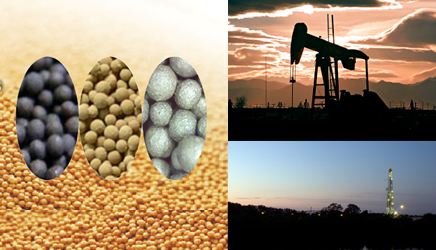 Ceramic proppants and hydraulic fracturing
Ceramic Proppants are used in the process of hydraulic fracturing to increase oil and gas production. With increased ROI, using Ceramic Proppants has huge economic benefit. In the process of hydraulic fracturing, fluids with great pressures are pumped down a well to create fractures in the hydrocarbon-bearing rock formation. Proppants, a granular formed material is transported in the fluid to fill this fracture to keep the fracture "propping" open after high-pressure pumping stops. The fracture filled with ceramic proppants creates a permeable channel through which the hydrocarbons can flow more freely. Ceramic Proppants are used in both oil and gas wells' exploration of low-permeability fracturing and in the construction of deep well fracturing.
Why ceramic proppants?
Other types of proppants like sand or sand-based might be cheaper, but both engineering study and real oil and gas production experiences show that ceramic proppants provide higher and consistent oil and gas production rate due to their higher strength, uniformed sizes and shapes regardless in the shapes of reservoirs and their conditions. Ceramic Proppant grains with uniform size and shape has great advantage of providing maximum porosity for the oil and gas flow channel and allows more oil and gas flow the proppant pack.
Contact KT refractories for Ceramic Proppants, ceramics or other refractory raw material to save you both time and money!
Call us at 1-877-365-2995 or email us at ConsumerService@KTRefractories.com for your refractory raw material, chemical additives or minerals need!
Ceramic proppants come in different anti crushing strengths and sizes, and can be classified as into middle ranged density ceramic proppants, mid to high density ceramic proppants and high density ceramic proppant. Each group has different ranges of anti-crushing strength. For detailed information, see data charts deblow:
Ceramic proppants Data Charts
All information in this data sheet is based on indications of the producer and on current knowledge. All information in this data sheet does not represent any guarantee.
Mid Density Ceramic proppant Specs
Proppants
Size Specification
Roundness
Sphericity
Bulk Density
(g/cm³)
Observant Density
(g/cm³)
Turbidity (NTU)
Acid Solubility %
Crushing Limit at 69Mpa %
Crushing Limit at 86Mpa %
16/30
1.18 - 0.60mm
≥0.85
≥0.85
1.7 -1.9
3.10 - 3.30
<60
<7
<10
<20
20/40
0.85 - 0.425mm
≥0.85
≥0.85
1.7 -1.9
3.10 - 3.30
<60
<7
<6
<10
30/50
0.80 - 0.30mm
≥0.85
≥0.85
1.7 -1.9
3.10 - 3.30
<60
<7
<5
<9
Mid to high density ceramic proppants
Proppants
Size Specification
Roundness
Sphericity
Bulk Density
(g/cm³)
Observant Density
(g/cm³)
Turbidity (NTU)
Acid Solubility %
Crushing Limit at 69Mpa %
Crushing Limit at 86Mpa %
16/30
1.18 - 0.60mm
≥0.85
≥0.85
1.8 - 2.0
> 3.35
<60
<7
<8
<15
20/40
0.85 - 0.425mm
≥0.85
≥0.85
1.8 - 2.0
> 3.35
<60
<7
<5
<8
30/50
0.80 - 0.30mm
≥0.85
≥0.85
1.8 - 2.0
> 3.35
<60
<7
<4
<7
High density ceramic proppants
Proppants
Size Specification
Roundness
Sphericity
Bulk Density
(g/cm³)
Observant Density
(g/cm³)
Turbidity (NTU)
Acid Solubility %
Crushing Limit at 69Mpa %
Crushing Limit at 86Mpa %
16/30
1.18 - 0.60mm
≥0.85
≥0.85
1.9 - 2.1
> 3.45
<60
<6.5
<10
<15
20/40
0.85 - 0.425mm
≥0.85
≥0.85
1.9 - 2.1
> 3.45
<60
<6.5
<6
<10
30/50
0.80 - 0.30mm
≥0.85
≥0.85
1.9 - 2.1
> 3.45
<60
<6.5
≤5
<8